It is really simple to integrate babelforce to Zendesk - this should take you just a few minutes to get up and running
What you'll need:
One Zendesk account - you will need to login as an admin.
One babelforce account - main login is intended for admin in any case.
Here's what you do:
First in Zendesk:
1. click on the Settings icon (the little cog wheel in the lower left-hand corner)
2. select under the Section "Channels", the "API"
3. If it is not already enabled, check the box to enable "Token Access" and IMPORTANT click the "Save" button (it is down and to the right - easy to forget if you are in a hurry).
4. You will see a long token/code of letters and numbers. It will be displayed something like this:
"Your API token is: HJ6GLhKiBeev1lNV8jGtdNZ2gFBa1xf3HcIiZnHG ..."
Just copy that token (without any extra spaces in front or at the end).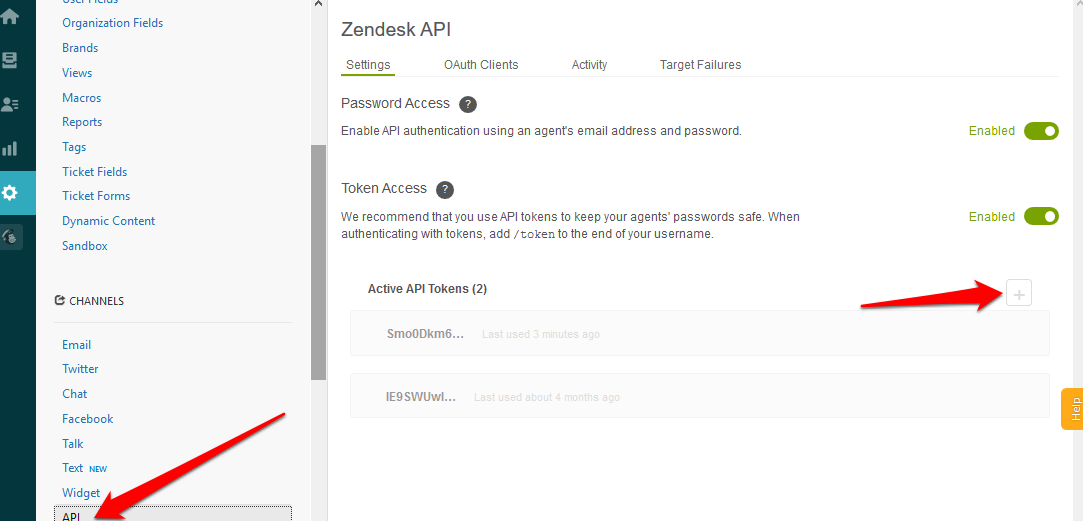 Second in babelforce:
1. login to your services.babelforce.com account
2. Go to Integrated processes > Integrations, click on Add integration and select Add Zendesk Integration

3. You will see a form like the one below.
4. Just give your Zendesk integration it a name in the label field
5. Put the sub-domain of your Zendesk in the field Sub-domain, e.g. for us it is "babelforce" because our Zendesk is "babelforce.zendesk.com"
6. Paste the API token from Zendesk in the field "API-Token"
7. IMPORTANT: if you use the API Token to authenticate, then do NOT enter any password in the password field.
8. Put the email address of the admin owner of your Zendesk in the field Username
So the form will look something like this before you click "Save"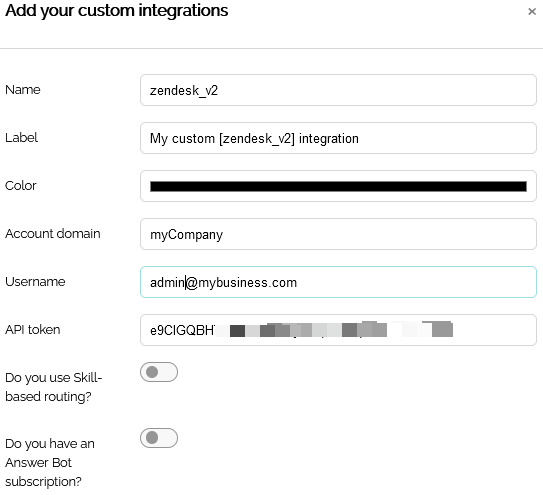 8. Click "save"
That's it you have integrated babelforce to Zendesk. Now you can get your agents synchronised:
https://help.babelforce.com/hc/en-us/articles/201514869-How-to-synchronise-agents-and-groups-from-Zendesk
NOTE: it is important to sync agents before setting up the babelConnect app in Zendesk or using babelConnect as a chrome extension. Each agent must exist and be imported/sync'd from Zendesk in order for the app to work for that agent logged into Zendesk.