Welcome to the second chapter of the babelforce tutorial. We are very happy to have you!
In this chapter, we will move your call flow that you build on paper or in a form of a diagram to the babelforce platform. If you haven't read our first chapter, yet, no problem! However, you should feel comfortable creating your own call and automation processes and you should know exactly what you want to implement with babelforce. You are not quite sure, yet? Maybe go back to the first chapter and go through our step-by-step guides.
Using babelforce for the first time might be a little complex, but we will start simple. It is the aim of this chapter to explain which of the many sections you will need to build a simple flow. We will be experimenting with a few examples and at the end, you will know all the basics to continue with some more experimental setups.
So in simple words, we'll move from this:

to this: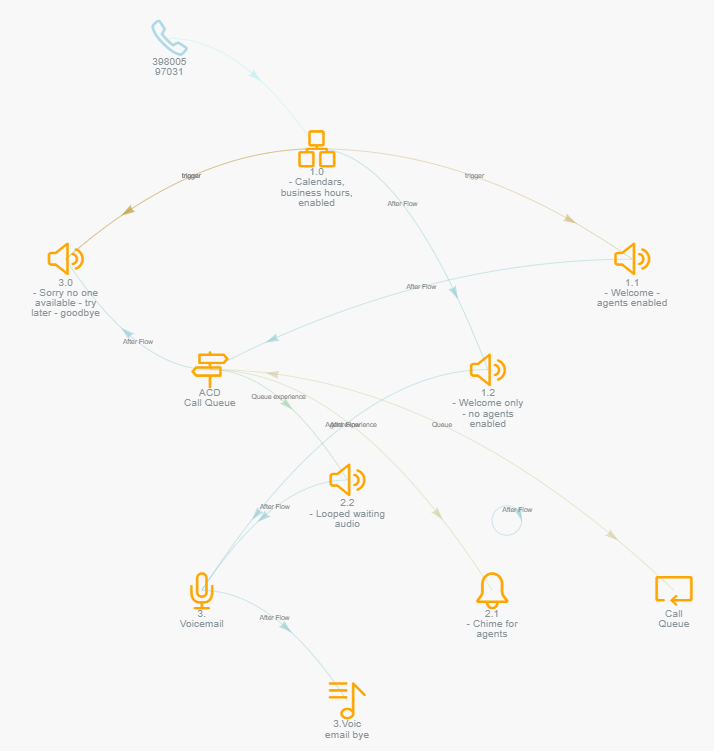 How do you start?
First of all, make sure you are registered with babelforce. If not, you can easily register here: https://services.babelforce.com/register. Our team will get in touch with you to discuss what you want to achieve and you can try everything for free for a full month.
When you are logged in for the first time, you won't find an empty account but you can already start working with some of the templates we provide. However, there are a few things you need to know before you can get started. Therefore, we recommend you to read the next article:
The babelforce manager app - here we go through every single section and give a short overview of them.

In this and the following articles, you will learn that central for implementing an inbound call flow is the following configuration sub-sections in the babelforce manager app:
1. Triggers
2. IVR call-flows: Numbers, Call Flows & Audios
3. Routing & Queuing: Agents, Queues
4. Scheduling: Business Hours & Calendar
You will also need Reporting > Live Logs for testing your set-up.
Additionally, you might want to change some general settings for your call flow. Find out everything about the possibilities babelforce offers in this article.
That was a general overview, let's check the details now. Go to the next section here.