Many customer services decide against voicemail or automated call-back services. Rather, they have customers forwarded to an outsourcing partner after a certain wait time or in case all in-house agents are busy on the phone or with other tasks.
There is a number of scenarios where companies decide to accept support from external partners and we want to discuss a couple here.
Scenario 1: Peak Businesses
Peak businesses are hard to manage when it comes to staffing. Making hundreds of agents available from one minute to the other to take all incoming calls is not always possible.
Imagine a company whose service is selling online tickets for evening events. Usually, there are about 50 calls per hour from 9 am to 6 pm. Customers are having problems printing their ticket or put in the wrong email address for receiving the tickets.
But right before the events start the situation changes: many things can go wrong before an event and suddenly customers are starting to call your hotline. Instead of 50 calls per hour it's now 200, and they all come in between 7 and 9 pm. Instead of six, you would need almost 25 agents - but only for two hours.
One way to solve this problem is having an outsourcing partner who can dynamically take all calls that your in-house team cannot handle. They are trained to solve the majority of the requests. All tasks that are more complex are forwarded to the in-house team via ticket and can be handled later.
Scenario 2: Small Teams
Customer Communication teams can be small but busy, having to deal with many complex tasks. One case might take up to 30 minutes.
Even though these teams only receive a few calls per hour, they are not able to handle all of them. However, to avoid having customers waiting in line for too long, many customer services decide to enable an overflow to an external partner. These teams are not experts but they can help with some basic questions. In case they cannot solve the request, they will summarize it and have a call-back automatically scheduled with one of the experts.
This is not only a great improvement of the customer experience, but the Customer Communication team also meets internal KPIs like call abandoned rate, customer satisfaction and phone service level agreements.
Implementation
babelforce offers various options to implement this kind of feature.
1. The flow chart below shows the example of checking agent availability. In case all agents are busy on the phone, the call would automatically be forwarded to the outsourcer.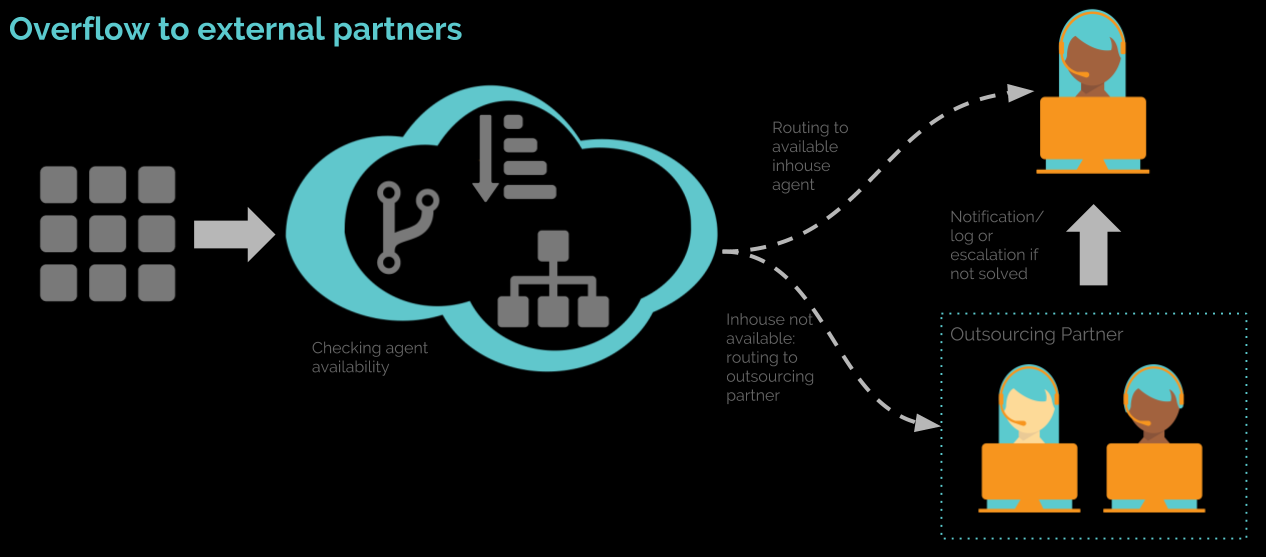 2. Instead, you could build an entirely separate call flow for your outsourcing agents. For instance, if none of your in-house agents are picking up the call within a specified time range, you forward the call to the other queue where you have many available outsourcing agents.
3. You could also route calls dynamically. At a certain point, you could check whether an outsourcer is available. In this case, you can directly route the call to your partner reduce the wait time significantly.
4. Of course, you can also have the customer actively make the decision to be forwarded to the other service. To implement this, you would have to build an Input Reader to store the answer of the customer and a Switch Node which routes the call depending on the customer's decision.
It's all up to you. If you can whiteboard it, you can implement it.