After you put down your initial ideas for the best customer and agent experience you now need to get more specific.
This might be a tough task but you will get there eventually, don't give up :). We will try to walk you through this process step-by-step and if you've done it once or twice it gets much easier.
Now, get a quiet place and take the material you created in the first session. Today's task will be to break down the process from this very broad, first level, description to the third level which means a super detailed, step-by-step description of the journey your call will take through your phone system. (You will very likely have a 2nd level description, first, which is no problem at all but the aim is to have every detail put down in the end).
Do you remember the diagram from before? Your call came in, was routed to an IVR (an Interactive Voice Respons which means that the caller was asked to select a call reason), and then forwarded to the agent with the matching skill, right?: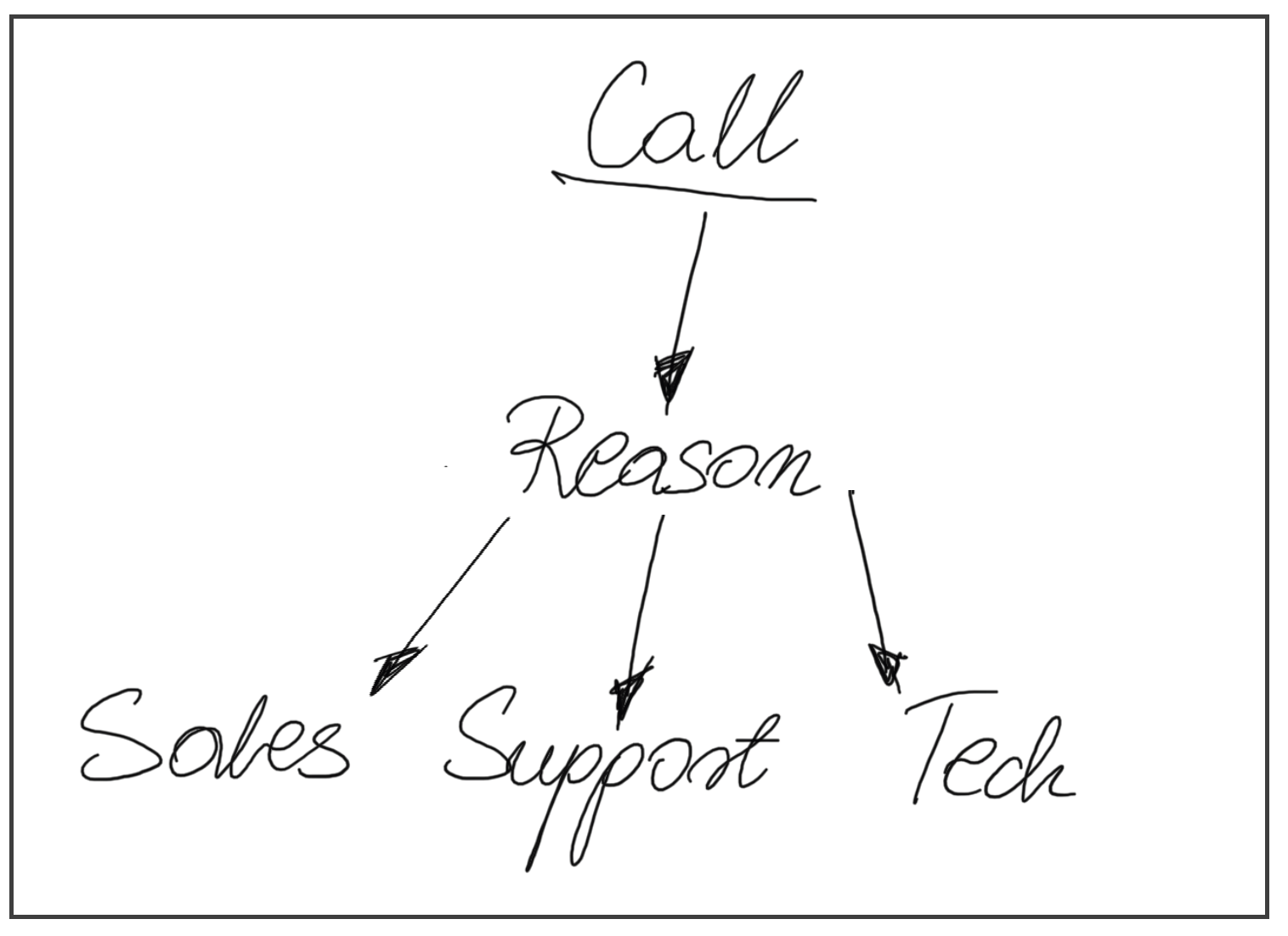 We will take a step back - because that scenario is too complex for a start (in the next section we'll look at this scenario). Now, all we'll do is have an incoming call connect or not connect to an agent. How do we get there?
A call reaches your hotline
A customer is calling your hotline. So what is really happening here? Is the caller directly forwarded to an agent or is there more going on in your telephone system that the customer may not know of? What might be happening in this scenario:
The platform checks your services opening hours
Most services are closed at specific hours so you want to make sure you are not forwarding a customer to your call queue when all your representatives are at home enjoying their evening. So where does your call go in case your service is closed and where does it go to when it is open?
Incoming call after hours means that the call needs to be forwarded to some kind of announcement informing the customer that the service is closed
Incoming calls that reach your hotline within office hours should be forwarded to the call queue (that's the place where customers wait until an agent is free to take their call)
The second step in your call-flow
At the first intersection, the call either went to the after-hour prompt, after which the call stopped or it was forwarded to the call queue. The first part of the journey ended but what about the second path?
A caller reaches your queue, in the best-case scenario, the call directly connects to an available agent.
But what happens if none of your representatives is available to take the call? There are many options (we discuss a number in the next article) but let's consider an easy one: the caller goes into the queue and lines up behind the other waiting callers. The customer hears music while waiting.
If no agent is available within 3 minutes, the caller is kicked out of the queue. What should happen then?
Ending a call that was not connected to an agent
So this path of your call is quite sad (we usually say that successfully connected calls went the Happy Path) but it might happen, so be prepared. You kick out the caller after three minutes and now you don't just want the call to end. What should you do instead? Our suggestion:
Say sorry to the customer, offer an email option, or ask to call back later.
Summary
In a nutshell, these are the three options we discussed in this chapter in a form of a simple flow: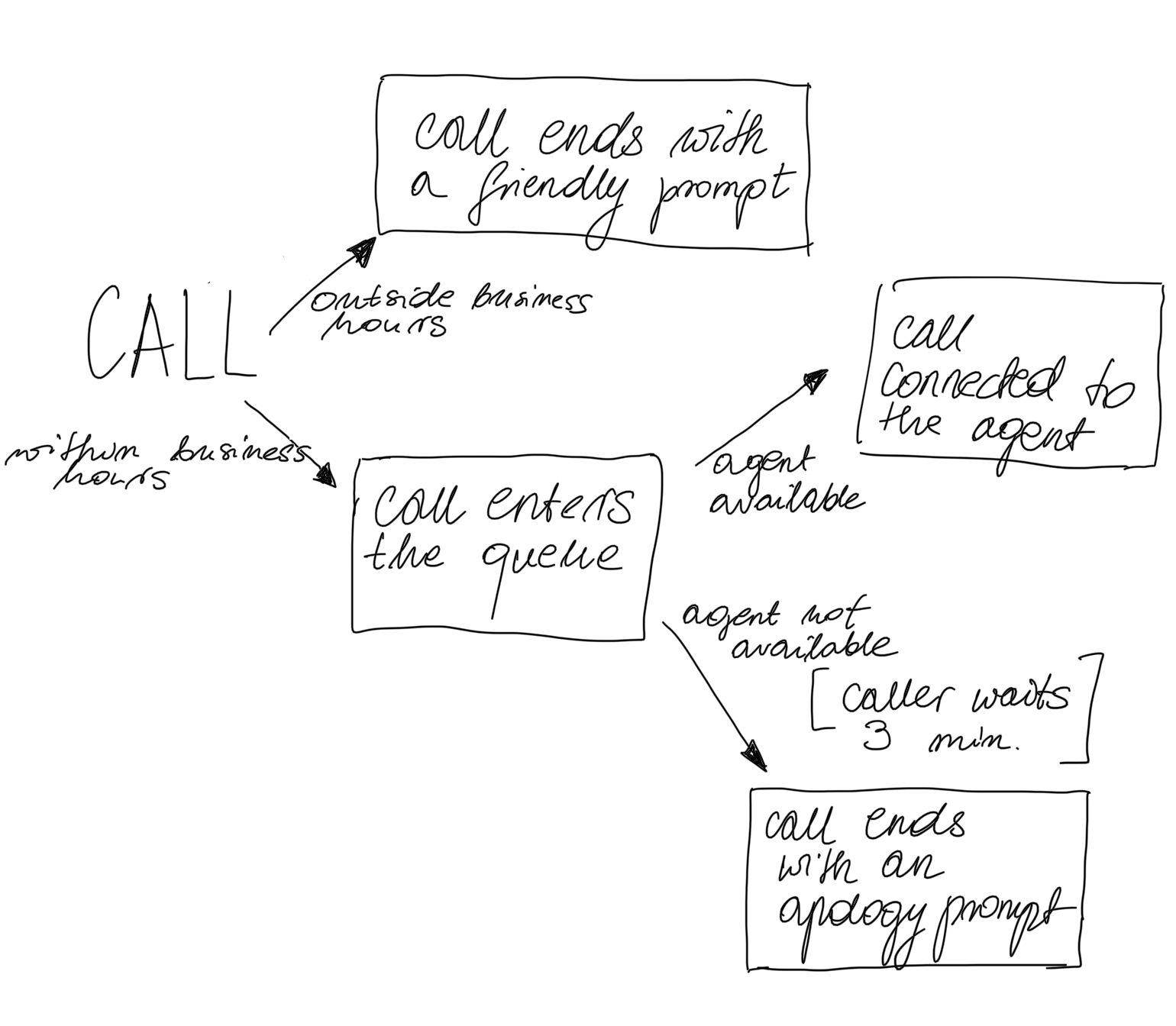 You can also prepare your flow in a table, whatever works best for you! Here's the described flow:
Step 1
Step 2
Step 3
Call reaches hotline after business hours
Call is ended after a friendly prompt was played
Call reaches hotline within business hours
It is forwarded to the queue and directly connected to an available representative
Non of your representatives is available. Customer hears music
After three minutes the call ends, the customer hears an apology
In the next section, we will look at a much more complex scenario that will probably reflect your call flow more realistically. But be warned, it's getting more difficult. If you feel ready, you can go to the next section here.