With babelforce you can manage agent presence (whether or not they are available to take calls) in many ways, and you can also create as many presence options as you wish (see the article on global settings for more details).
Agent presence shows if agents are ready to take calls or if they are occupied. babelforce comes with these two basic presence options by default: "Available" and "Busy". The platform will only try to connect calls to an agent if the agent is "Available".
This article introduces four different ways to manipulate and monitor agent presence.
1. babelforce API
2. babelConnect
3. Agent view in the babelforce Manager app
4.Dashboard


1. Using the babelforce API
You can use an application that accesses our API to share and change availability. This is not an out-of-the-box feature, but it needs to be set up by your technical staff. We recommend using Postman. However, deciding to go for this option offers you great flexibility and you can set it up to fit your needs. Read more on this topic in the section API Power.
2. Using babelConnect
Agents can change their presence status from within their babelfConnect App. The babelConnect App is available as
All three apps offer the same functionality.
Presence can be selected in the top right corner individually by the user. Whenever agents change their presence to "Available", they are ready to take calls.
Whenever leaving the work-space, agents must change their presence state. If they stay on available, babelforce will forward calls to them even if the computer is switched off. Therefore, it is important that agents change their status to "logout - I'm busy" when they leave their working stations.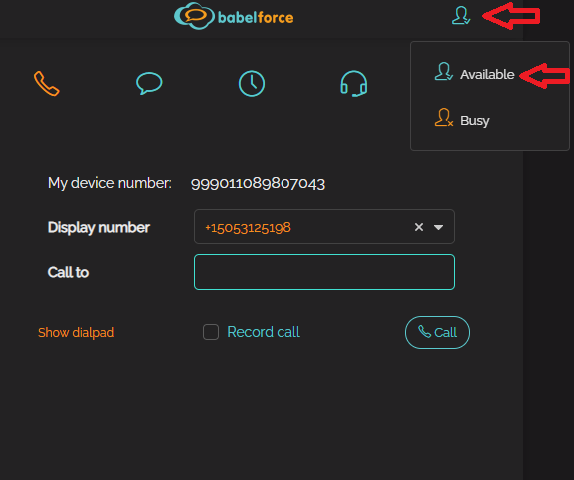 Besides this local setting, team leads also have the ability to monitor and change agent availability.
3. Agent view in the manager app
Option 3 can be found in the babelforce Manager app in the section Routing & Queuing > Agents. There, you find a list of all agents created in your babelforce account. Every agent has a certain Line and Presence status.
Let's briefly look at the difference: The Line status is automatically set by the babelforce platform. It indicates if the agent is in a call, unreachable, etc. (you can set the time an agent stays in certain "Line" statuses in general settings) but you cannot directly influence this status. For more info on the Line status, check out this article as well.
The Presence status determines if an agent is ready to take a call or not. Perhaps they went out for lunch and therefore cannot take calls, but forgot to change the status themselves:

4. The Dashboard
Every person with access to the babelforce Manager app can also log into the babelforce dashboard (please keep in mind to use the URL of the territory your platform is located in). On the dashboard, you can easily monitor which agent is available. You can also see who is taking calls in the Current call activity section.