You are all set up to get started with our automated outbound dialer? Your campaigns are ready and you are just wondering how to categorize calls after they were finished? You find the right article. After each successfully connected outbound dialer call, babelConnect presents call reasons. Below, we explain how to select them and what each of these reasons means.
Be aware: call reasons are set. They cannot be changed.
Selecting the call outcome
After finishing a call, the call outcome has to be selected and submitted.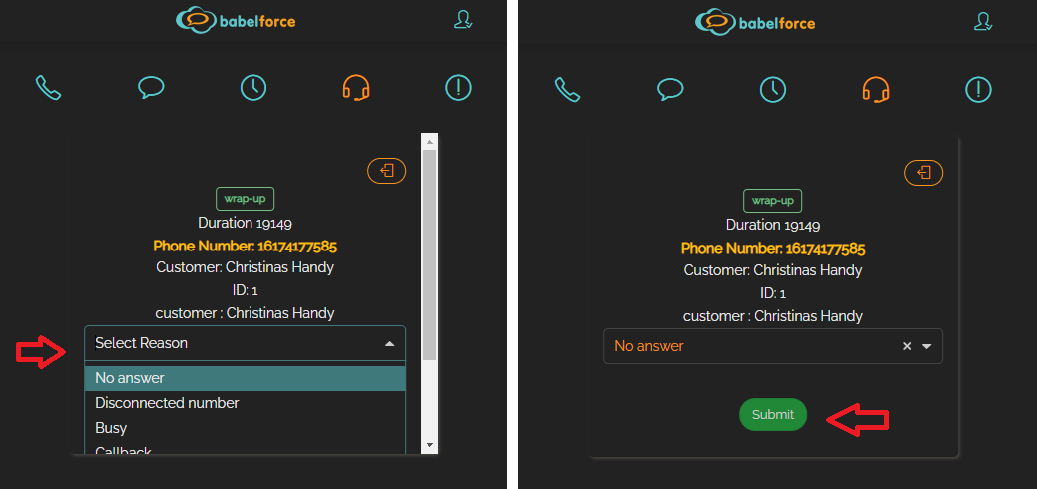 Choosing the right call outcome
But which call outcome triggers which behavior?
All call outcomes can be subsumed under three options
Calling x times every x hours - if one of these outcomes is selected, the customer will for instance be called by the platform up to 5 times more on a 7 hour intervals. To customize the times, please get in contact with babelforce support.
Scheduled call back - if this outcome is chosen, the agent can define (from a pop-up box) a specific date and time when the customer wants to be called back.
No redial - when one of these outcomes is chosen, the lead will not be called again
Here is the overview of outcomes subsumed under the behavior they trigger.
| | | |
| --- | --- | --- |
| Calling x times every x hours, but no more than x times | Scheduled call-back | No redial |
| No answer | Call back | Don't call again |
| Disconnected number | | Not interested |
| Busy | | Sales |
| Answering machine | | |