Welcome to the second chapter of the babelforce tutorial. We are delighted to have you here!
In this chapter, we will guide you through the process of transitioning your call flow from paper or diagram format to the babelforce platform. If you haven't had a chance to read our first chapter, don't worry! However, it is important that you feel comfortable creating your own call and automation processes and have a clear understanding of what you intend to implement with babelforce. If you're uncertain, we recommend going back to the first chapter of the tutorial section and following our step-by-step guides.
Using babelforce for the first time may initially seem complex, but we will start with the basics. The objective of this chapter is to explain the essential sections you need to construct a simple call flow. We will provide examples and, by the end, you will have a solid grasp of the fundamentals and be ready to explore more advanced configurations.
So, in simple terms, we will be transitioning from this:

to this: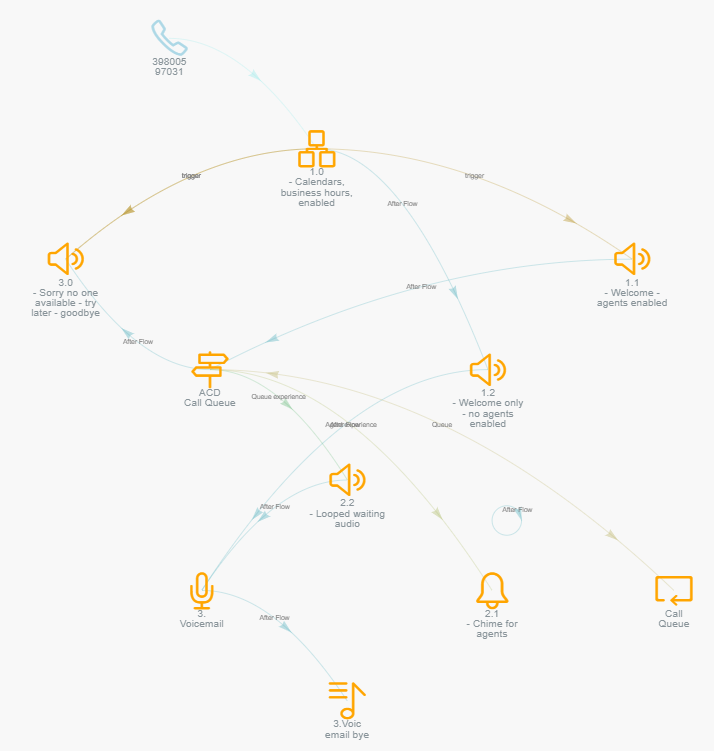 How do you get started?
First and foremost, ensure that you are registered with babelforce. If you haven't done so, get in touch with the team: https://www.babelforce.com/contact-us/.
When you login to your account the first time, it will be empty. But no worries, this tutorial will help you to add relevant resources.
In case you prefer a more interactive first contact with the product, we suggest you start out with our babelforce Beginners Course.
However, if you rather approach a new product by reading or if you already did the course and feel as if you need more information, you found the right place.
Relevant navigation items

In this and the subsequent articles, you will learn that the following menu points, located in the navigation of the babelforce manager app, are crucial for implementing an inbound call flow:
1. Triggers
2. IVR call-flows: Numbers, Call Flows & Audios
3. Routing & Queuing: Agents, Queues
4. Scheduling: Business Hours & Calendar
You will also need
Reporting > Live Logs
to test your setup..
That was a general overview. Let's dive into the details in the next section.