Managing the relationship with customers can be challenging. Not only because customers are highly sensitive to good service but also because customer service involves good interaction between all the different departments of a company. Rather that is Sales, Finance or Customer Service for example.
Well, good that you're here. We teamed up to make it as easy as possible for you to to manage and simplify the whole customer life cycle from reaching out to potential customers to winning back former ones. But babelforce is so much more than that! We help you to avoid wasting time with manually managing the relationship with customers. Our aim is therefore to automate and standardize as many steps in your day to day customer relationship management activities as possible. In this section, we want to give you an overview of the possibilities and services we offer and provide you with some ideas, how to customize your babelforce experience so that it matches your personal requirements. We basically offer our services considering all of the different stages involved in customer retention. While reading this, keep in mind that babelforce is highly flexible to be adapted to your personal needs.
Where babelforce is deployable: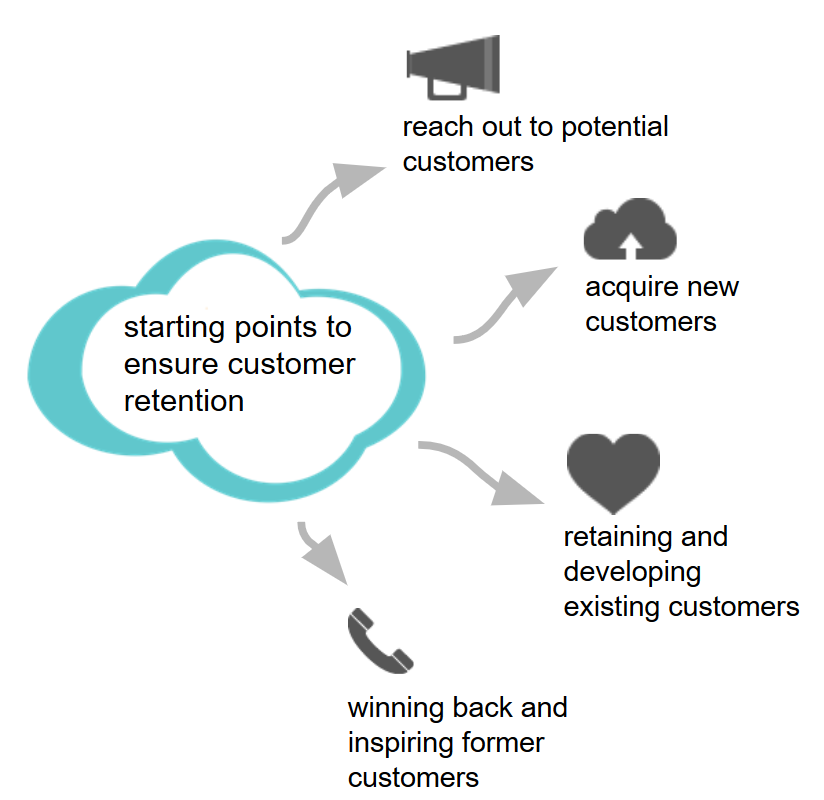 What differentiates babelforce from many other IVR and VoIP systems is that it helps you to manage your call activities by using integration. Plainly said, babelforce can connect your call and contact activities with basically every tool that you wish for. This can be email or SMS, but most importantly any CRM or helpdesk that your company is using to process customer related tasks. This allows you to set up whatever process you want to carry out to manage your calls.
To manage these different stages, we offer various services:
1. babelforce offers the possibility to create an outbound dialer campaign. It is basically the automatization of outgoing calls - may it be to contact leads or to gather feedback from current customers, for example. By setting up an outbound dialer campaign, your agents do not have to call each (potential) customer manually, but they are able to schedule calls automatically, having the system inform them when a call connects to a customer. Here we give you some examples about how you could use the outbound dialer function. Please note that we created separate articles for each of the possibilities for the interested reader. You will find them here. The outbound dialer could for example be used to
contact leads on a regular basis to inform them about updates of your product or to learn rather or not they are interested in your product at all
collecting the voice of your current customers or conduct professional surveys
defaulting customers in some way or making sure that contacts are followed up and that deals are closed timely
creating logical architectures to handle call back requests dynamically
getting in touch with former customers to try and convince them to sign up again
2. What counts for the outbound dialer can also be applied to the management of inbound calls. Inbound calls play a big part in providing excellent customer service. Maybe you are struggling with that from time to time. Might it be that you are missing customer's calls or are unable to attend them to their fullest satisfaction on the phone when they are trying to reach you. babelforce wants to make it as easy as possible for you to provide your customers with excellent customer service to keep them happy. We can help you avoid common pitfalls and pains, making you save a lot of time. Here are some examples what you could do to manage your inbound calls with babelforce:
Jump from phone to written communication by providing requested info by a caller directly via SMS or Email or by providing them the possibility to be called by a responsive agent. This makes agents save time as the number of calls directed to them is reduced.
Process IVR input by integrating babelforce into your CRM or helpdesk. Thereby, caller information can be requested via IVR and this information can be used by opening tickets in your CRM or helpdesk and assigning them to the responsive agent and / or customer account for instance.
Forward calls to outsourcing partners if they meet certain criteria (for example at peak hours or when customer requires certain predefined information).
Change routing dynamically by factor time, availability and/or load.
If you do not want to use an IVR system for your incoming calls but let 1st level agents answer incoming calls, you could automate the forwarding of these calls to 2nd level agents. This way your agents don't need to know who's available from the other team and you have a professional work flow. The ticket can of course be pushed directly to the 2nd level agent.
Premium customer care. With babelforce you can ensure phone SLA for VIP accounts by marking all VIP calls by asking customers for their customer ID or match the calling number for instance.
Manage multi-brand or multi-language contact centers by having the calls routed according to the caller number or IVR selection.
Route calls to specialized agents and agent groups according to the customer's needs.
Again, feel free to jump into any of these examples for a more detailed description. You find the overview section here.
3. Sometimes, you want to reply to a contact attempt from a customer via phone or your webpage. babelforce also offers solutions for that:
We offer the possibility to schedule callbacks for missed customer calls. Might it be that your agents experienced a peak and could not attend all callers, or because no agent was available during a certain time / on a certain date.
Imagine for example that you want to directly attend customers who are asking for support on your website or via other channels that you use. With babelforce you can dynamically offer call backs to these customers or connect them with one of your agents via those channels.
If you want to dive into these scenarios more deeply, click here.
4. Finally we want to give you some more ideas how to use babelforce
You can automatically assign certain tasks to certain agents. Tasks could be outbound or inbound calls, email or SMS, etc. Thereby, you have certain agents make calls according to their skillset, etc.
Receive and send text messages and have them either forwarded as an email, have a ticket created or have information added to an already existing ticket.
Make voice message accessible by adding them to an email or ticket.
Achieve computer telephony integration (CTI) within Zendesk using the babelforce platform.
We also have separate help center articles describing these scenarios in detail. Fill free to jump directly into the respective section.
Now that you have an overview of the possibilities babelforce offers, you can get creative and design your personalized call experience on our platform. Sounds great, right? So let's keep moving to learn how to implement all of that. First of all, we want to give you an overview of the different integrations babelforce offers:
Zendesk
Freshdesk
SugarCRM
ZohoCRM
Salesforce
Geckoboard
babelforce-storage
babelforce-services
Pushover
Pipedrive
For a deeper insight into each of these integrations, please visit the category "Integrations". In this category, you will find detailed information on the setup of each of the integrations.
Feel free to directly jump to the CRM or helpdesk that your company uses. Have fun exploring.