Recording management and recording meta data are used by contact centers to achieve many different objectives:
Monitoring and Quality Assurance in the Call Center
Adding data to link recordings to certain purposes, e.g. linking the audio of a contract closure or change to a particular case/ticket/conversation
Allowing agents highlight recordings that are problematic, e.g. for compliance reasons
Issue tracking while optimizing networks and telecommunications interconnections in larger call centers
To support all these different cases, it is possible on babelforce to configure what tags can be added, what agents can do with recordings and also how managers can interact with recordings. This article will show you the main points on how to use these recording management features.
Recordings can be managed on babelforce by simply assigning them tags. You can define your own set of tags to fit your business processes. Note that one tag is reserved for the one-click "flag recording" button, by default this tag is set to "flagged" but you can change that also.
You can also give multiple tags to a recording, allowing unlimited variations to make the management of recording easier. The basic steps for tagging and managing call recordings are as follows:
An admin user defines all possible tags in the babelforce account

An admin user (manager, supervisor, ...) can flag recordings when reviewing them, e.g. to highlight those for review

The agent receiving a call on the babelConnect app selects a tag during or after the recording
The admin user sees all recordings, including live ones, in the reporting section of their babelforce account
Defining Tags
To define the list of tags an agent can choose from, go to babelforce manager app, navigate to
 Reporting > Recordings 
then scroll down to the sub-section Recording Control. Enter the names used for tagging into the field "Allowed Tags for tagging". Press enter to save each of them. The examples in this article and screenshots just illustrate the functionality. You should, of course, define a set of tags that match your processes.

Tagging Recordings
An agent can tag call recordings in the babelConnect app. This is the telephony application either embedded in your Help Desk or CRM or used as a standalone web app. When an agent receives a call to their synchronized device, the Call tab (signified by the telephone icon) will change to present the inbound call.
If the current call is recorded, the red recording icon will flash to indicate that a recording is active (e.g. because the IVR or queue app module has set recording to true for the particular call). Once the recording has started, the agent can click on "Open flag options".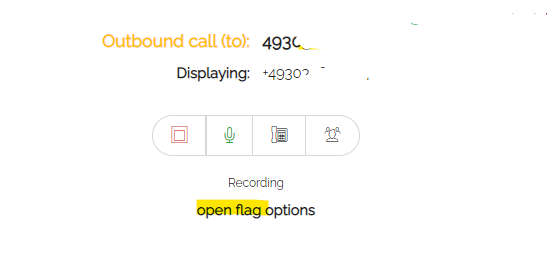 Now a drop down field appears which allows the agent to select one or multiple tags.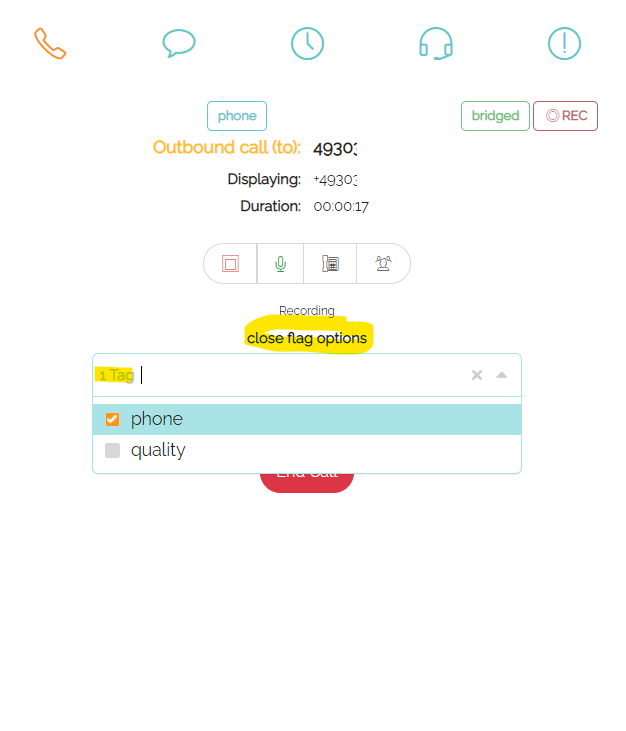 This can be done multiple times during a call, and tags can be used in any combination for any number of different recordings.
Managing and Reviewing Recordings
The babelforce manager
Once recordings have been created in this way, they will appear in the section
Reporting > Recordings
in your account. Admin users can get an overview of all recordings here. Any tags that have been added appear on the left-hand side of the recording entry:

If you look at the buttons to the right of each recording, they give you the ability to play, download, delete, flag and examine it individually.
Often with this approach you will want to view only certain types of recordings. i.e. those tagged 'review'. Using the drop-down menus at the top of the page, you can select recordings by tag. If you want to search in a more general way, for example searching for a specific phone number, you can do so using the search bar and entering a text or number string.