In the babelforce manager, you can create and manage as many queues as you like.
Go to
Routing & queuing > Queues
to edit and add queues.
The screenshot below shows you how to add new queues.

Queue setting parameter
Queue settings provide you with complete control over how incoming calls are managed. To access the settings, simply click on the queue. Once opened, you'll find the following essential parameters: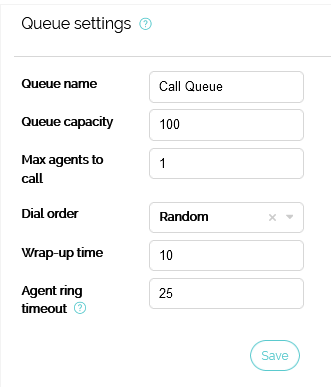 Queue capacity: This indicates the maximum number of concurrent calls the queue can handle. It comprises the total active calls, including calls waiting and those being handled by agents. Adjusting this value ensures you can offer alternative call routing if a surge of calls occurs simultaneously. It's crucial to avoid adding calls to the queue if there's little chance of serving them promptly.
Max. Agents to call: This represents the number of agents the babelforce platform will attempt to call simultaneously.
The Dial Order dictates how agents are selected for calls. In the example provided, "Random" is used, meaning the queue picks one agent randomly from the pool of available agents. Several other Dial Orders are available, so choose the one that best suits your specific processes and call center setup.
In our example, the agents have a 10-second wrap-up time after ending a call. During this period, they won't be available for selection by the babelforce platform. The Wrap Up Time setting allows you to control this interval, preventing agents from immediately receiving new calls after ending the previous one. It's especially useful when agents need to go through a post-call wrap-up process, ensuring accurate customer data and entries. We usually recommend a Wrap Up Time between 20 - 40 seconds, however, the interval should be defined by your business process needs. bablforce is not setting any limits to wrap up time.
Agent Ring Timeout is the duration the queue attempts to ring agents to connect them to an incoming call. If the agent does not pick up the call within this time, the queue will try to connect to another available agent.
Be cautious not to set this value too low, as it can lead to issues. For instance, if the Agent Ring Timeout is shorter than the call establish time for certain agents, they might miss the call opportunity, resulting in frequent missed connections. A suggested starting value is 15 seconds, which can be optimized based on performance, however, 30 seconds often proves to be the best time for agents to pick up the call.
Troubleshooting agent selections
Here are some common "gotchas" to be aware of with Queues:
Setting Agent Ring Timeout too low: Consider various agents' call establish times, especially when using different types of phone lines. A higher value might be necessary to avoid missed connections.

No one gets called: If test calls to the queue fail to connect to agents, review the agent selections and ensure they match the triggers or selection values. Confirm that agents in the pool are available and not occupied with other tasks (presence state must be "available").
To troubleshoot, simplify settings and make calls to a few available agents. Once successful, gradually reintroduce complexity and optimize your configurations. If you're interested in prioritizing call routing, refer to the provided article.
Now, have fun creating your own queueing and call distribution mechanisms!