It is not always possible to serve all customers who call your hotline. The reasons for this are manifold but we can condense them to two factors:
The call volume spikes unexpectedly (caused by a marketing campaign, technical challenges, not quantifiable concurrence, etc.)
Personnel challenges (sickness, leave, etc.)
This can result in long wait times and unhappy customers. Whatever the reason, poor service never reflects well on your product.
However, there are easy ways to deal with these factors and increase customer satisfaction again. Also, these solutions enable a more flexible service and better resource planning.
One way to counter this problem are call-backs.
Put yourself in the shoes of a customer and imagine you call a hotline. After two minutes of waiting you receive the option to be called back by one of the service representatives. You select this option and within three minutes, you receive a call from the service you tried to reach unsuccessfully before. Your issue is solved within minutes.
What happens on the business side? All your agents are in a call. Waiting customers request a call-back. Every call-back request is directly scheduled in your Automatic Outbound Dialer system without any manual interaction. As soon as your agents are no longer in a call (or maybe you decide to have members from other teams take over this task) the dialer connects automatically to the available representative who gets all user information pushed into her system of record. The customer's request can easily be solved now.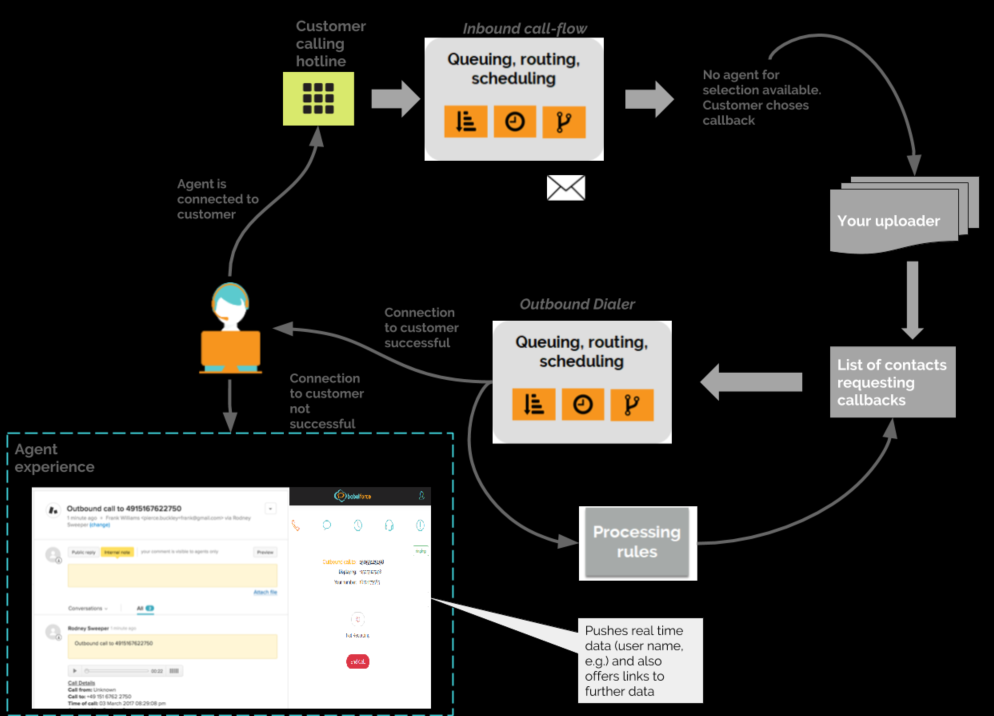 To set up this use case, you need both an inbound call-flow and Outbound Dialer Campaign with an Automation that automatically uploads the caller number to a list if they request a callback. This article guides you through the setup step by step. If you want to dive deeper into the topic of Outbound Dialing, we recommend you having a look at this chapter in our help center.