In most business you must ensure that you not only keep in touch with your customers but also with your prospective clients, as they might influence the future success of your company. Especially the nurturing of the opportunities with high value can be key.
Talking to the possible clients regularly to inform them about product updates but also figuring out whether they are still interested in your service is important. However, the challenge is to keep track of all these leads. Maybe you can sort your customers by "latest date called" in your CRM but what if a sales agent forgot to add a call log or the call outcome? In any case you would need to screen your system manually.
With babelforce, you have the possibility to automate all these processes. Even better, you can have calls scheduled automatically. This way you can be sure that your sales agents are always engaged in those important calls and will also receive all relevant information as soon as the call connects.
Of course, babelforce will also place a call record and the call outcome in your CRM and offer your sales experts space to leave further notes attached to the call event.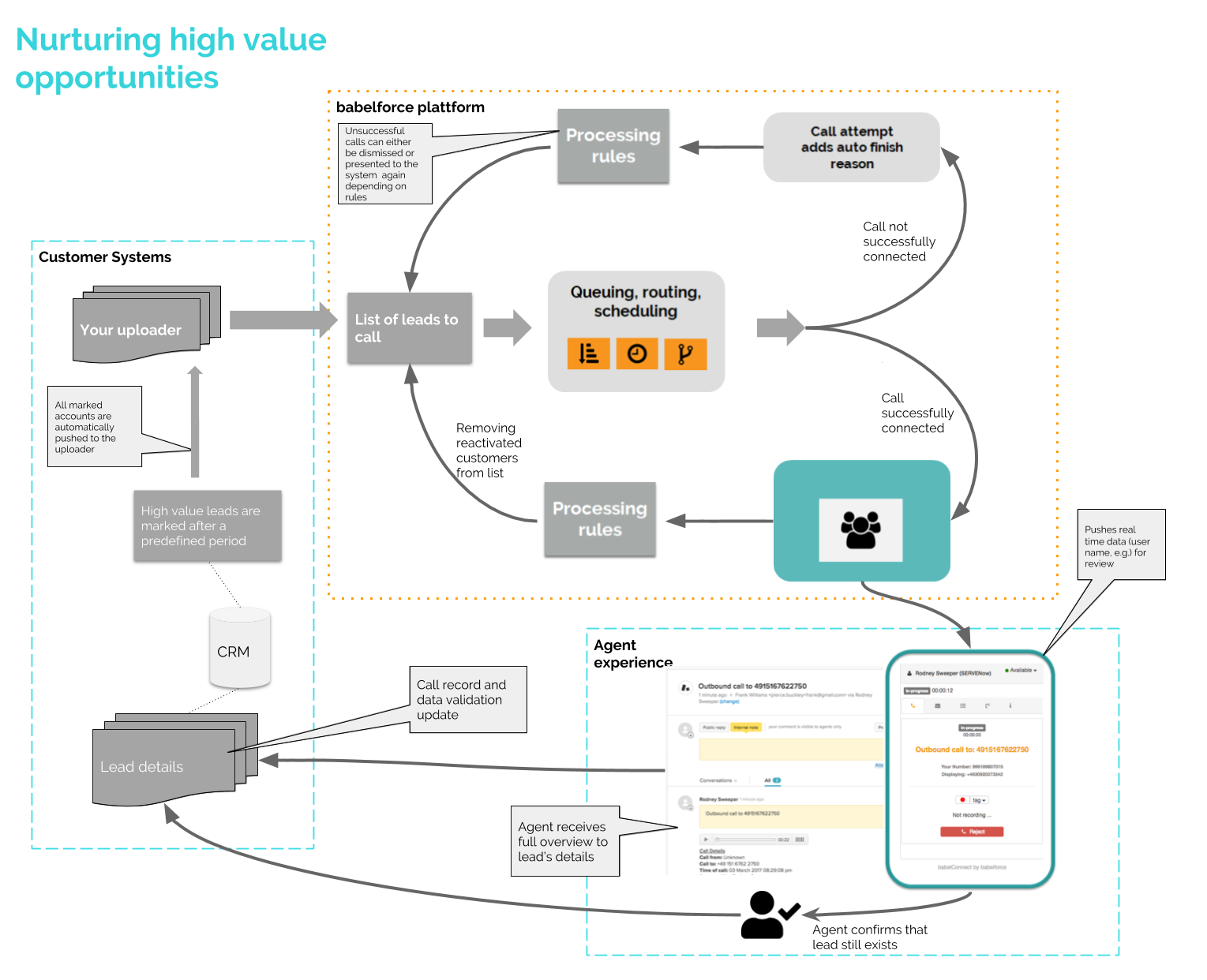 What you will need to do in babelforce:
Familiarize yourself with the possibilities of automatic outbound dialing by reviewing this article
Set up an automated outbound dialer campaign to automatically call your customers - if it's the first time you work with an automated dialer, feel free to read more on the topic in general or on more practical terms.
Think about possible call outcomes and define them in your system (for instance: customer will buy within the next two weeks, customer wants a callback tomorrow morning at 10:00 am, etc.)
You should keep in mind that some of your leads might call your service back. Build your inbound call flow for all leads that get back to you to ensure forwarding them to a sales agent who talked to them previously or knows the lead account.
The system of record integration:
This article explains how to push data from an outbound campaign to a ticket.