Conducting surveys is in the interest of most industries. It helps to improve and assess products and services, but it also keeps close contact to customers.
There are many ways to collect customer feedback. The cheapest way is emails or automated after-contact surveys. But those surveys are usually static and usually only a certain type of customers replies to them. Moreover, standardized questionnaires will hardly help to improve your customer-business relation.
Another channel for collecting feedback is via phone. However, many companies are hesitant to use this channel as they are afraid of high costs for collecting a representative number of responses. And just comparing the costs of one phone and one email survey might seem to confirm this concern.
But much speaks for the phone channel, especially if you automate it:
Customers feel valued and you can increase their loyalty to your brand
You can directly respond to a customer's feedback
You can conduct qualitative surveys
Some customers can only be reached this way, especially if you have B2B relations
babelforce offers various possibilities to collect you customers' feedback efficiently:
Connect your database with your outbound dialer and define who should be called
You can define how often you want to try calling your customers
Your team will only be connected to a call if a customer picked up the phone
Surveys and user accounts can automatically be pushed to the experts conducting the survey, making it easy to ask questions designed to meet the customer segment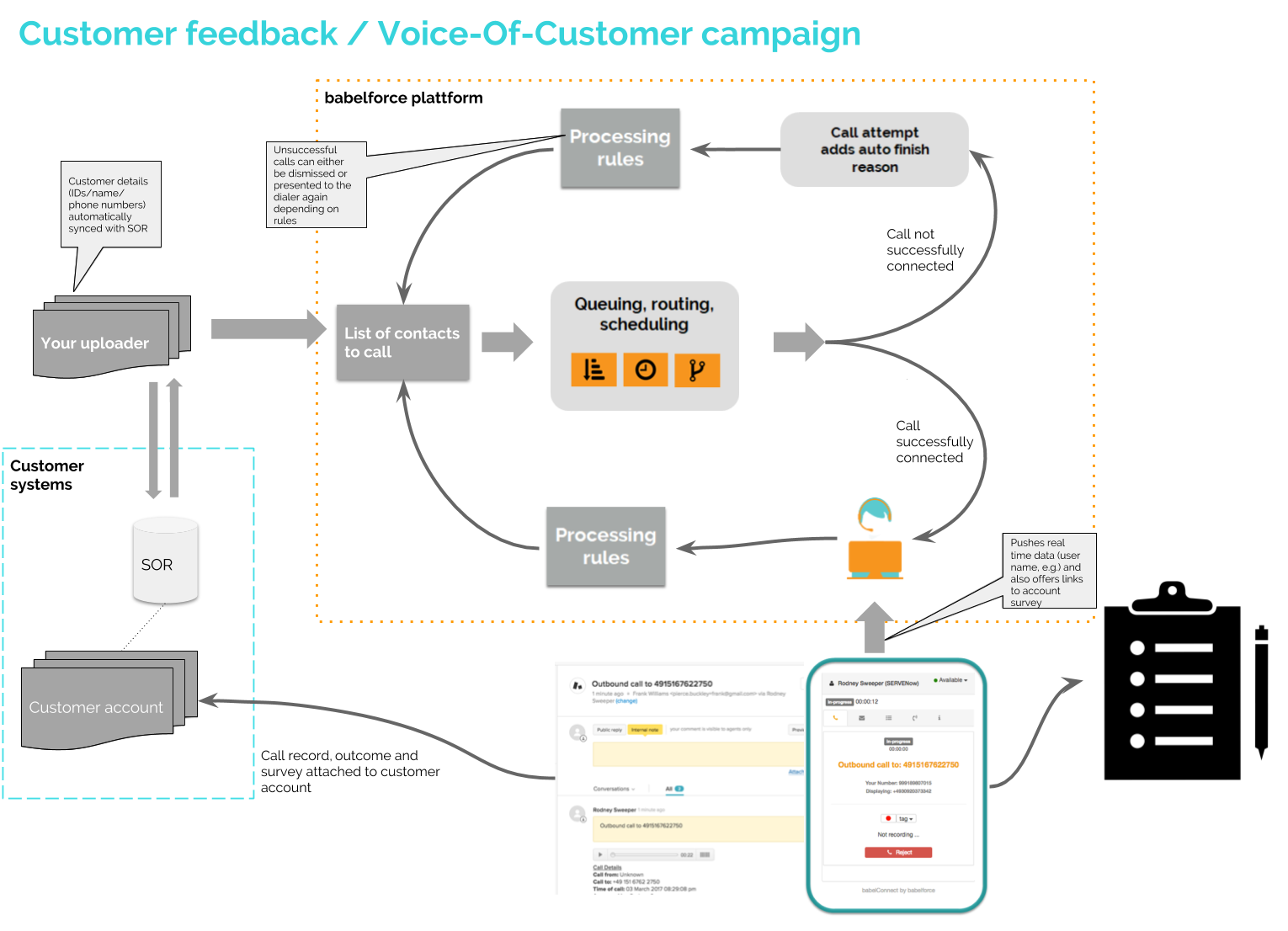 This is how you could set up such a scenario (you will need to familiarize yourself with some third-party software like Postman to handle API requests):
The outbound dialer part:
You should keep in mind that customers probably call your service back. Build your inbound call flow for all call-backs. This way you might even get the chance to conduct even more surveys.
The system of record integration:
This article explains how to push data from an outbound campaign to a ticket. You can add, just as in any inbound case, as much information to a ticket as you consider necessary.
Here you learn how you can push account links or surveys to the babelConnect app