The first steps to set up your call flow are:
creating an Internal Agent and ensuring the agent is added to a group
adding or modifying a queue
1. Adding Agents to groups
When you open your babelforce manager app for the first time, there will be no agent added to your account. Find out more about adding agents in a previous tutorial. Best you add an agent with your email address for testing purposes first.
The new agent will automatically be added to the group _all. If you want, you can add the agent to another group. That's how it works:
Go to Routing & queuing > Agent groups
Click on the "Add" button in the upper right corner to create a new group - give it a name and click 'Save'
After you created a new group, you can edit it by clicking on its name or the pencil icon
Now you can add agents by selecting them one by one from the list (see screenshot)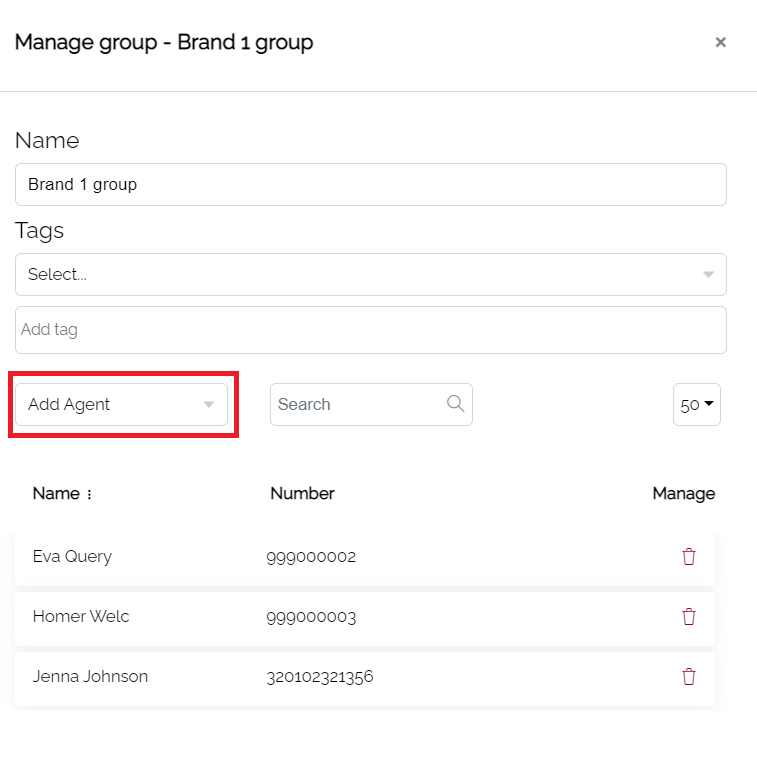 Once you've selected your agents, click 'Save'.
If you prefer to follow video instructions, click here:
Now we can move to the 2nd step.
2. Queue settings
To view the default queue that is automatically added to your flow, go to Routing & queuing > Queues. In our screenshot below you see that we already added other queues. You can do this by clicking on the "Add" button in the upper right corner.

You can edit the queue (find more details about possible queue settings in this article) and add agents as already discussed in section 1.4.
Make sure you add the right group. For instance, if you add a new group and only add some of your agents, only those agents added to the new group will receive calls. So keep this in mind when setting up your selection logic.
Your queue is ready so we can connect it to a basic call flow. Go to the next section and create (or edit, depending on what you decide to do) the ACD module for your flow.