We hope that by now, you already feel comfortable describing your call flows. You should already have an idea of how the ideal call flow for your service center should look.
However, the call flow comprises only half of the job if you also want to record all your calls in your CRM or helpdesk. But don't worry, it will be much easier because you have likely been working with your helpdesk or CRM for a long time, and you know exactly how you want the call processes to be.
But let's start by discussing the vocabulary:
Integrations: babelforce offers the possibility to integrate with your CRM or helpdesk. Depending on the system you are using, babelforce can create tickets and users, as well as log files for various events. For example, when a call comes in, a ticket can be created.
If you are not using any software for your service, you could also have an email or SMS sent.
Automations: Moreover, with babelforce, you can add event-specific ticket updates, tags, or any other action that your CRM allows. Automation helps you visualize your processes and keeps your reporting up to date.
Now, let's make it less theoretical and start the same way we did with your first call flow design: grab a pen, a piece of paper, and find a quiet place. Now, try to think about what happens in your system when a call comes in. Let's start with some basic events:
A call is initiated.
A call is successfully connected.
A call is not accepted at all.
Again, be broad; you don't need to be too specific (we'll do that in the next section).
It could look like this: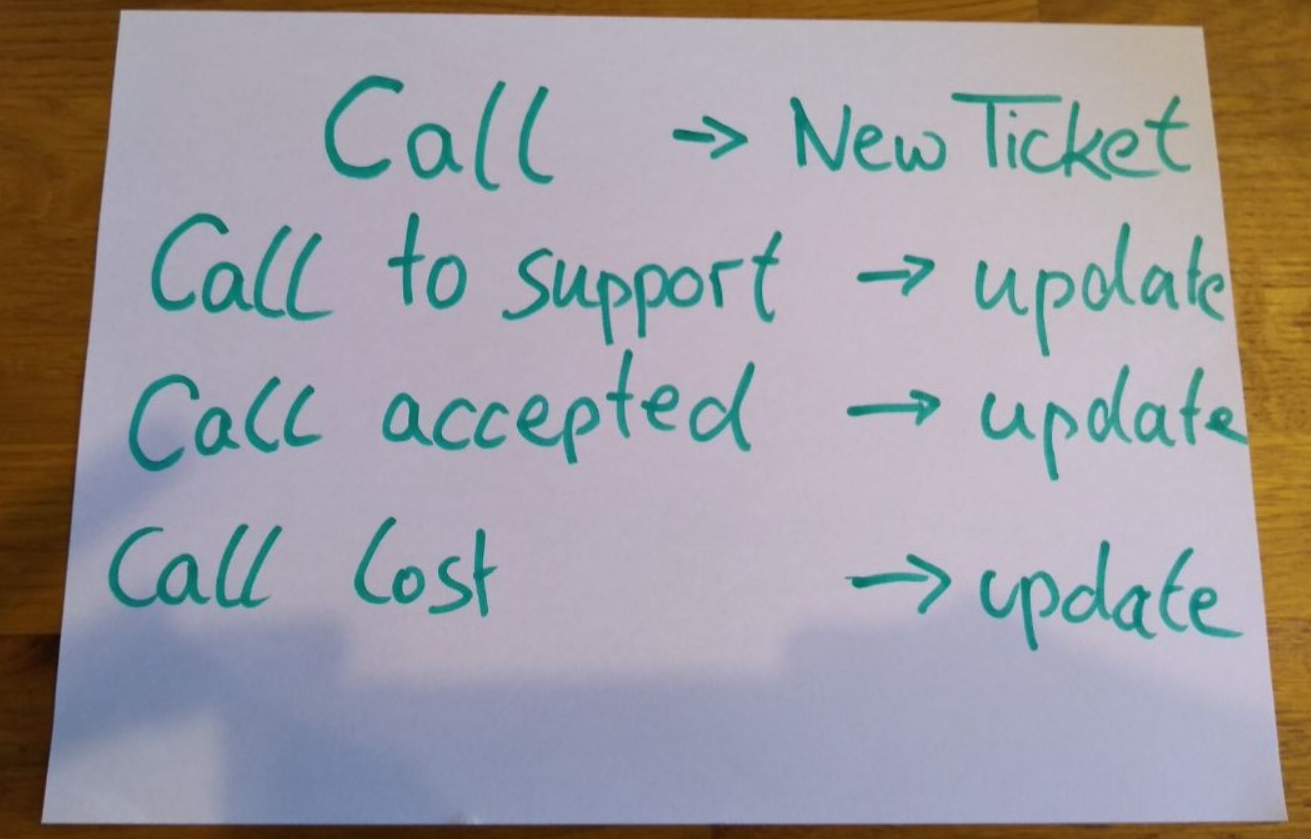 Now, let's put these events into words:
For each new incoming call, create a new ticket.
For each call that wants to connect to Support (or Sales, etc.), include relevant information on the ticket (ticket update).
When a call is connected to a representative (call bridged), update the ticket to indicate the call connection.
For each call not connected to an agent (call lost), update the ticket accordingly.
If you're unsure how to get started, think about your employees who handle the calls first.
What information do you want them to see when they connect to a call?
Should they be able to see the caller's identity?
Should they have access to the caller's call history?
Next, consider your reporting. What data do you want to analyze? Are there any Key Performance Indicators (KPIs) you already measure? What additional KPIs would you like to introduce but haven't been able to because of limitations in your current setup?
How can you generate reports using your CRM or helpdesk?
What parameters do you need, such as ticket groups, ticket subjects, or tags?

Do you want to track the number of calls received per day and the reasons for those calls?

Do you want to know the abandonment rate (the number of unanswered calls)?
Try to figure this out first. Put yourself in the shoes of your agents—integrations should be in their best interest! They should have access to customer data and communication history. Automations primarily serve your reporting needs. Consider in advance what you want to measure and determine the easiest way to achieve it.
babelforce can implement almost all processes; however, you need to define the desired outcome first. Along the way, you'll discover that many things are pre-built, but sometimes you'll need to put in extra effort to make something work exactly the way you want it.
Have you completed the task? Let's move on to the next section and address some actual processes.