At the core of our platform are flows, which are composed of modules. Each flow is like a canvas where you can bring your ideas to life by connecting various modules together. Think of these modules as building blocks, each serving a unique purpose and offering specific settings to customize your flow.
Individually, a module may appear as a puzzle piece with limited functionality. But when you link them together in the right way, they form a cohesive and comprehensive system. It's like assembling blocks of different colors and shapes to reveal the bigger picture of what you can create.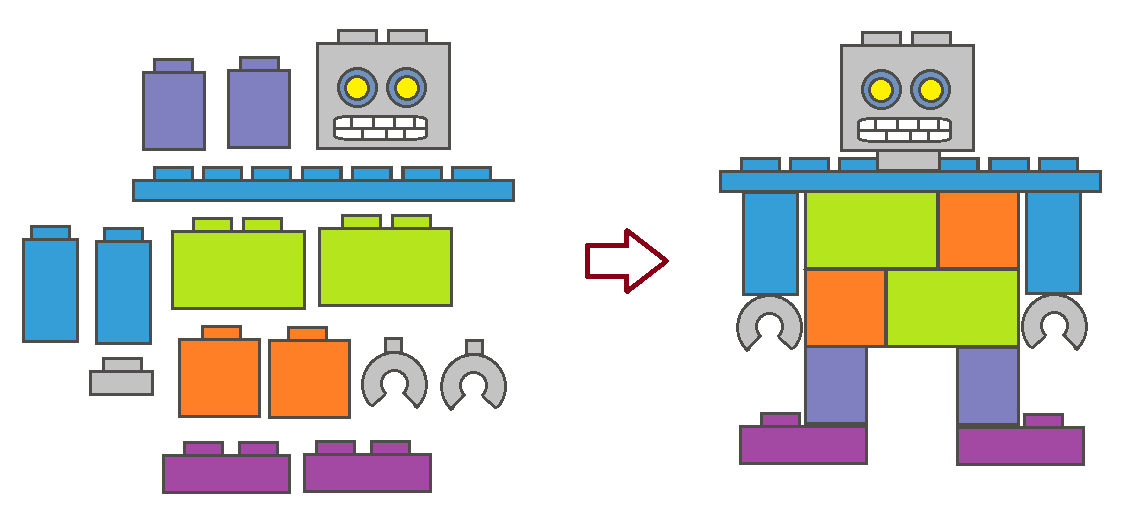 In the following sections, we will dive into the various module types and their respective functionalities, empowering you to unleash your creativity and maximize the potential of your flows.
Remember, your imagination is the limit!
After linking the modules together, your call flow will resemble a tree structure with your number serving as the entrance point. Here is an example of what your call flow could look like: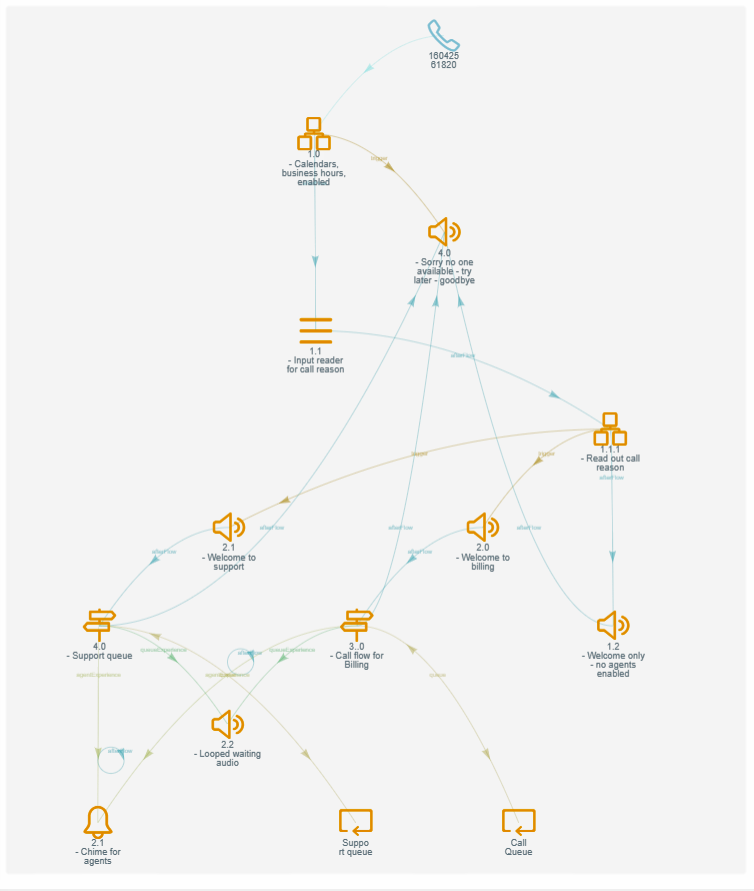 Each pictograph in the flow represents a specific module type. In the following section, we will provide an explanation for each module type.
To get started go to
IVR call-flows > Call flows
ACDs (Automatic Call Distributors) play a crucial role in managing incoming calls. Their primary function is to add calls to a call queue. Also, they define which audio customers may hear audio while waiting for assistance. In the upcoming section, we will delve into the fundamental call flow, where you'll learn how to integrate the ACD module with a queue and a designated phone number.
The configuration for queue selections is outlined in the settings section. Without the ACD, customer calls would not be directed to the queue, impeding any chance of assistance. Furthermore, the ACD module also determines the course of action for unanswered calls by agents. For instance, you can set up a 'sorry' audio message to be played to callers when none of your agents are available to take the call. This ensures that every incoming call is efficiently managed and customers' needs are addressed promptly.
The Audio Player module is straightforward - it plays an audio file. There are no hidden features, and as a result, it is usually linked to other modules. Alternatively, it may be placed at the end of a flow to bid farewell to a customer.
Prompt Players often welcome customers before they are forwarded to the queue, or they are used within an ACD to play queue wait music. While they are easy to use, Audio Players can be utilized for a variety of exciting features. We will delve into these features when we discuss Local Automations.
Similar to the Prompt Player, the TTS module plays audio. However, instead of playing pre-uploaded audio files, the user enters the text that the caller should hear which is then read out by a synthentical voice of your choice.
It's a fantastic feature that lets you personalize the audio in a way that suits your needs. Give it a try and enjoy the flexibility of selecting your preferred voice for the text.
Please be aware, this feature has to be enabled. If this is not included in your contract but you would like to utilize it, please get in touch with the babelforce team.
Switch Nodes take decisions based on a set of rules. It's like being at an intersection with different roads leading to different destinations. Your decision on which road to take depends on various factors, such as whether you're hungry or in pain.
The Switch Node operates similarly, but instead of human needs, it's triggered by predefined conditions. For example, is the caller reaching you during business hours? Is an agent available to take the call? You can define as many conditions as you need, and even test customer inputs with the Input Reader module.
Input Readers are modules designed to store customer inputs. For example, you can prompt customers to select a language or choose the type of problem they are experiencing. Using the dial pad (DTMF), customers make their selection
The Input Reader plays a prompt and stores the customer's input response. This module offers a wide range of settings, providing great flexibility to cater to your specific needs.
The Speech to Text module, just like the Input Reader, provides a convenient way to capture customer input. However, unlike typing, it offers the option for customers to choose between manual input or voice input, making it even more user-friendly and versatile.
Please be aware, the speech feature has to be enabled. If this is not included in your contract but you would like to utilize it, please get in touch with the babelforce team. But even without speech, you can make use of this module.
Simple menu is a basic option for customers to make a selection and route calls to another module based on that selection. Unlike Input Readers, it lacks a 'barge-in delay' that allows customers to interrupt the prompt by pressing their choice but it is very easy to configure.
The Agent Queue Experience, also known as "Whispering" plays an uploaded file to the agent before being connected to the caller. This way, agents can be provided with valuable information, such as the language of the caller, so they can effectively communicate with them, ensuring a smoother interaction.
The Voice Recording module enables you to store voice messages from customers when all agents are busy or calling outside business hours. By integrating this module at the end of your call flow, customers can easily leave voice messages. The recorded messages can be pushed to your CRM or helpdesk system or stored on your own servers, providing flexible data management options.
The Transfer module easily forwards calls to office workers without direct support or sales roles. It can be configured by mapping the employee's phone number and linking their device.
More advanced users can also use it to forward calls via the internet (using SIP).